Good morning.
How are all you over fifty bloggers & everyone else for that matter.
After a week with Storm Gareth clearing out the cobwebs, it also bought a faulty phone line with it. I spent half the week without any phone or internet - the phone line wasn't really a problem because I had my mobile, but no internet for nearly four days was pure hell! Blogging, on-line shopping, searching and generally everything I wanted to do depended on the internet working, I wanted to pull my hair out! I was a bit like when I was younger & lived out in the sticks - when we had a power cut I'd think of doing things like the ironing!! Come on own up, you used to do that too???
I'd wanted to check out some gift ideas for Mother's Day, both for my mum and for me ( you know I like to drop hints). To be honest the best present you can give someone is your time. I love having all the children around me on Mother's Day - heaven! Although this year i'm going to a friend's wedding, so will spend time with the family on Saturday, hoping to take my mum out for lunch the following week - shushh don't tell her it's a surprise!
For
Mother's Day
last year the kids surprised me with some boots, not just any boots though, they happened to find just the boots I'd seen in Next and bought them for me! Yes, you guessed they all have a sixth sense - not really I'd let slip numerous times the ones I wanted - lol.
Since getting my ivory ankle boots they've been the finishing touch to so many of outfits making them a valuable addition and worthwhile present. White boots have been in the limelight over the past year, and seem to be going from strength to strength. Have you got yourself a pair?
To be honest the best present you can give someone is your time.
If you're looking for gift ideas (or if my kids are reading) here's a few pieces that caught my eye whilst shopping earlier in the week.
Scrolling through
IG
recently I spotted at least three bloggers wearing pink blazers - these, my friends will be everywhere in the next few months, so grab a 'must have' when you spot one. I'm loving this Marks and Spencer
Pink Blazer
, that also comes in fresh green. Double breasted are always very flattering and can dress up a pair of jeans or create a casual look for a summer dress. Why not bag a suit with the matching trousers?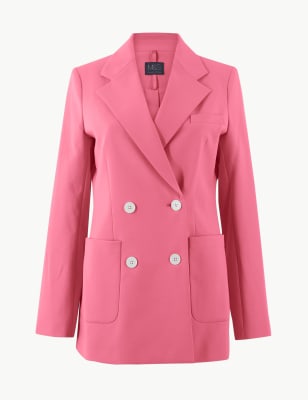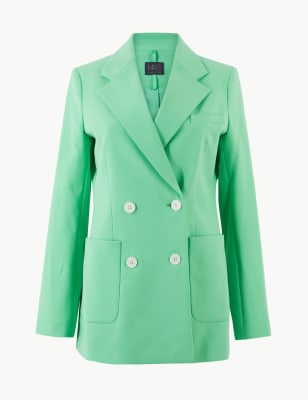 Also
fell
for this jumpsuit. Do you know how much I love wearing jumpsuits? After my recent clear-out, my
favourite palm print version
had to go as it was too big for me! I just might just have to add this to my collection! Next have a wide selection of the same design, but this
pattern clash version
caught my eye - not to mention two of my favourite colours blue and mustard yellow. The price is £28 which is really reasonable for basically two items. Check out the other colours - they're all interesting and different.
I can't wait to start wearing my sandals again, much as I
love
wearing boots it's so nice to get your tootsies out and embrace the warm weather.
Ochre leather ankle straps
are four words I'm liking. So how about these to add to a shoe collection? Also available in tan, these will set you back £45, and for the amount of outfits they'd pair with I'd say that's a bargain!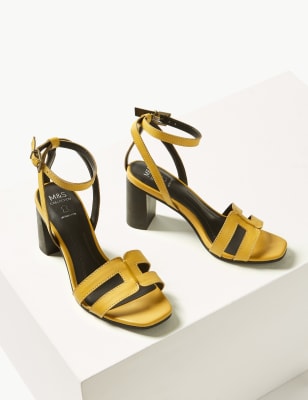 How about jotting another yellow item to the list? I've been trying to broaden my collection of coloured bags - this would enhance my assortment of neutral bags and really come in handy.
Unusually round
it's a statement piece that has a choice of two handles, £30 and a medley of colours and patterns - what's not to love!
I adore wearing my necklaces, they tend to be the finishing touches lots of outfits need. I have quite a few to my name, but there's always space for more! I saw plenty in Marks and Spencer but this
Glitter Flower Collar
really stood out - pretty isn't it! It's from the Skin Kind range which is perfect for sensitive skin. Available in White, pale pink, fuchsai and blue & any one of them will set you apart from the rest of the girls, finishing off your outfit a treat.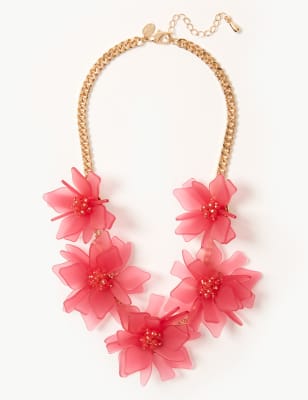 Flowers are always winning presents - who doesn't love to receive a beautiful bouquet? See the
stunning selection starting from £25 at M & S
- choose your colour scheme and get them delivered for free!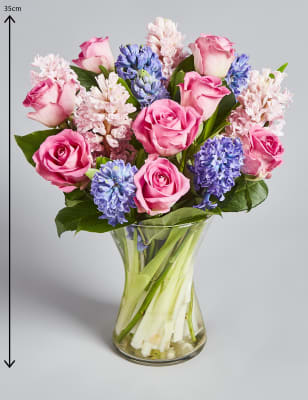 I found these beauties online in
Next
and just had to add them to my list, just in case you fancy getting yourself a pair! Western styles never go out of fashion & white are a fabulous twist that will compliment lots of outfits. Stock is low, so be quick! I know you're going to love wearing white boots - I sure do!
Make your mum happy with a little gift for her special day, but your time is the most precious present you can give. X
*********************************************************************************
Time for the
#chicandstylish #linkup
Favourite link from last week is my blogging friend Gail -
Is this Mutton
, who shared this stunning pink and green dress that really caught my eye. I'm on the hunt for something similar that maybe I can use for a
Style Steal
.
Now let's start linking up.
Here are some guidelines.
Please follow your host on
Pinterest,
Twitter
,
Facebook
and
Instagram
.
Link up your fashion and beauty posts below - other topics allowed too!
We all like to get compliments, so please leave a nice comment when visiting a blog or two.
Also leave a link back to
Mummabstylish
blog post.
You could also share the love on social media.
Many thanks for coming to the blog today - can't wait to see what you've linked up.
Esther Ruby kindly took my photo - mwahh. 💋
Until next week,
Bye bye for now. X